This page is about things you need to know that will make pre-trip and your trip on the Peace River more enjoyable. Remember it's always good to read *the fine print*.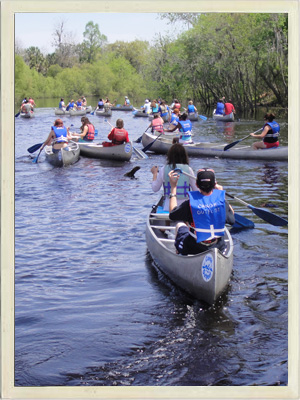 Pre-Trip Fine Print
Call ahead to check weather & river conditions, it may be raining where you are but may not be where we are!
Reservations required for all overnight trips and those with 4 or more canoes for the day. We do recommend reservations at all times. We are now only doing the 8:00 departure with a confirmed reservation weekdays and Sundays.
Reservations needed especially on all trips during Spring & Fall on weekends. Only the person who made the reservation can make changes to a reservation. Best time to call for reservations is after lunch. Before lunch, we're checking folks in and can't give you our full attention.
Departure times can fill up, best to call ahead. 800-268-0083. Always plan on checking in at Arcadia unless told differently by office staff or pre-paying. Our buses are on a schedule, please do not show up late or call and ask us to hold the bus, that's just not fair to all the other folks who got here on time and are ready to leave. Overnighters cannot arrive 15 minutes before the departure and get on the bus on time. We'll have to get you on the next available bus at our convenience.
Departure times & kayaks. if you have reserved kayaks for the day you must be at the check-in a minimum of 30 minutes prior to your trip to confirm what kayaks you are renting. If you have not reserved kayaks and show up a few minutes before the bus leaves, we don't have time to load the kayaks. Those wanting kayaks and without a reservation must check in a minimum of 30 minutes before departure. If you show up late, canoes will be your only option. Kayaks are not automatically loaded on the trailers.
Once you've arrived
Parking: once parked, leave all your gear in your vehicle. The bus will pick you up in the lot you're parked in. Please park next to someone or just behind them. Just don't triple park.
Check-in: Complete parties at check-in only please. You don't need to have someone guard your stuff, leave it in the vehicle. If you are with a large group, check in with your group leader.
Everyone who can read and write must sign our waiver. You can download the Waiver and Release (PDF), go to forms at menu on left, fill it out and bring it with you or fill it out when you arrive.
All persons who can read and/or write are required to read and sign the release at time of check-in and before getting in a canoe, kayak, or on a bus. There are also copies posted in the restrooms and dressing rooms. Parents cannot sign for the kids (unless they can't read or write), spouses cannot sign for each other. Everyone has to sign if they can read and write. If you have a "power of attorney", you must present a copy of the letter granting you that authority. Refuse to sign and we can't let you go.
Prices are per canoe/kayak with two people. Solo and tandem kayaks are the same price. Price is the same if there is only one person. All prices are plus 7.5% sales tax..
Payment: Business checks (no personal checks), all Credit Cards, credit or debit, or Cash. Our payment system only does payment per canoe not per person or split items. Please be prepared before check-in (bring cash or plan to settle with your paddle partner).
Lifejacket & boat cushion is included for each person. It's the law, everyone has to have a lifejacket. Kids, under six, must wear lifejackets while the boat is underway and all kids, 90 lbs. and under, must be fitted with lifejackets. The Outpost supplies fitted/ski vest lifejackets in all sizes. Lifejackets must be picked up at the office prior to departure. The orange "horse collar" type are on the bus if you don't want a fitted one. We recommend that everyone wear their lifejacket.
Closing Time: You have the canoe/kayaks until closing time. All paddlers must be in at the dock by 5:00 p.m. in Arcadia. In Gardner, the time to be back will be determined at check-in, usually 2 or 4 p.m. In Gardner, we open the locked gate at those specified times. Staff is in and out, not there waiting on you.

Canoe Outpost-Peace River has been offering paddle trips since 1969, paddle with the best.


Canoe Outpost-Peace River
2816 NW County Rd. 661, Arcadia, FL 34266
863-494-1215, 863-494-4391f
www.canoeoutpost.com
800-268-0083

This website is made with recycled pixels.