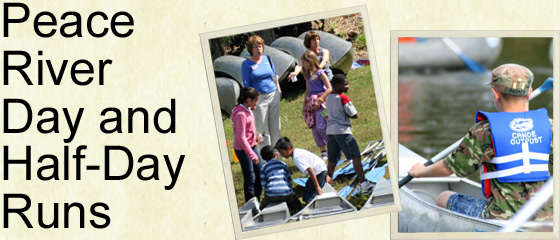 Options: Back


Are you ready for some prime time fun on the beautiful Peace River in Arcadia, Florida?
Whether you have an hour or a whole day, Canoe Outpost-Peace River has been your destination for paddling the Peace for over 40 years. Paddle from our dock or we can shuttle you upriver to see alligators, blue heron, wood storks, eagles and all other sorts of wildlife. Find your peace on the Peace River!
The trip descriptions are listed from longest to shortest in miles. On almost all trips, except the hourly, we bus you upriver and you paddle downstream back to your vehicles.
Please check trip availability (see link below) for current departure times. Some trips may not be available because of water conditions, some may not be available because of large groups.


More Info:

Kids, 12 and under, as extra people in the middle are free. Extra person, 13 and older, add $15.00 plus tax.
Kayaks: Want a solo or tandem kayak? It's the same price as a canoe. We have cockpit (sit-in) or sit-on-top (SOT). Our solos are by Emotion. Our tandem SOT are by Emotion. The tandem cockpits are Old Town brand, Loon and Otters. If you desire to rent kayaks, we need a reservation or you need to check-in at least a half hour early. If you show up at the last minute, we may not have time to switch canoes for kayaks on the trailer.
Prices are based on having the canoe/kayak for the day and not length of trip. On all daily runs you can keep the canoe/kayak all day. Need to be back to the dock by 5:00 p.m. on weekdays and 6:00 p.m. on weekends. All prices are plus 7% sales tax if applicable.
Reservations: Reservations not needed weekdays and Sundays. We need reservations on Saturdays, holiday weekend Sundays, and during Spring Breaks (see the calendar). Be sure to check-in at least 30 minutes prior to departure in checking in at Arcadia.
Parking: We have a front parking lot and a back lot. On busy Saturdays the front lot will be roped off, directing you to the back parking lot. In either lot, park next to any of the other vehicles to form a row. If in doubt, park, and staff will periodically check the parking. Just don't block someone in or triple park. Once you park, leave your gear and coolers in your vehicles and walk to the office to check-in. The bus will pick you up by your vehicle. If you're with a large group, wait for instructions from your group leader or a member of the Outpost staff. On weekdays, all trips leave from the front lot, you'll see the buses.
Camping at the Arcadia Peace River Campground? We right next door, just walk on over. If your camped in the main campground, you can probably see our back lot. If you're camped in the wilderness area, you might want to driver on over, it's quite a hike. You can also drive your 4-wheelers over to the Outpost to check-in. If you drive over, just head out the Peace River Campground main entrance and turn right onto CR 661. Follow the long, metal fence. We're the second drive on the right, look for the canoe mailbox.
Call us at 800-268-0083 or see our Reservations page.
We offer group, church, and youth discounts, see our Group Rates.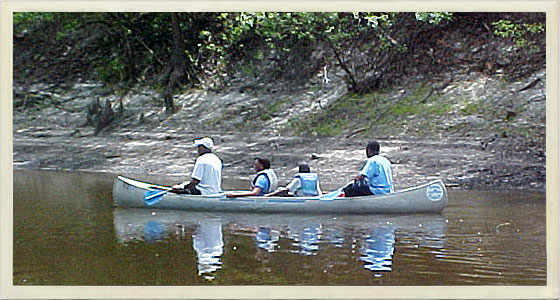 Along the way for any run: Stopping and picnicking allowed the entire trip on deserted islands and beaches. Canoe Outpost-Oak Hill picnic area is located half way down from Brownville or 2/3's of the way down from Gardner, 3.75 miles south of the Brownville Boat Ramp. Oak Hill has shady picnic areas with tables, portable toilets, and hiking trails and is for the exclusive use of Canoe Outpost-Peace River customers. The Arcadia Outpost at the end of the trip has restrooms, outdoor shower, picnic shelter with grill, shady picnic areas with tables, fossil displays, shady parking.
Note:
Be sure to see our Helpful Hints page for more information on what to bring / do that will make your trip more enjoyable.